9 min read
Migrate From Gmail to Office 365: Step-By-Step Guide

Brandon Lecoq on Jun 18, 2019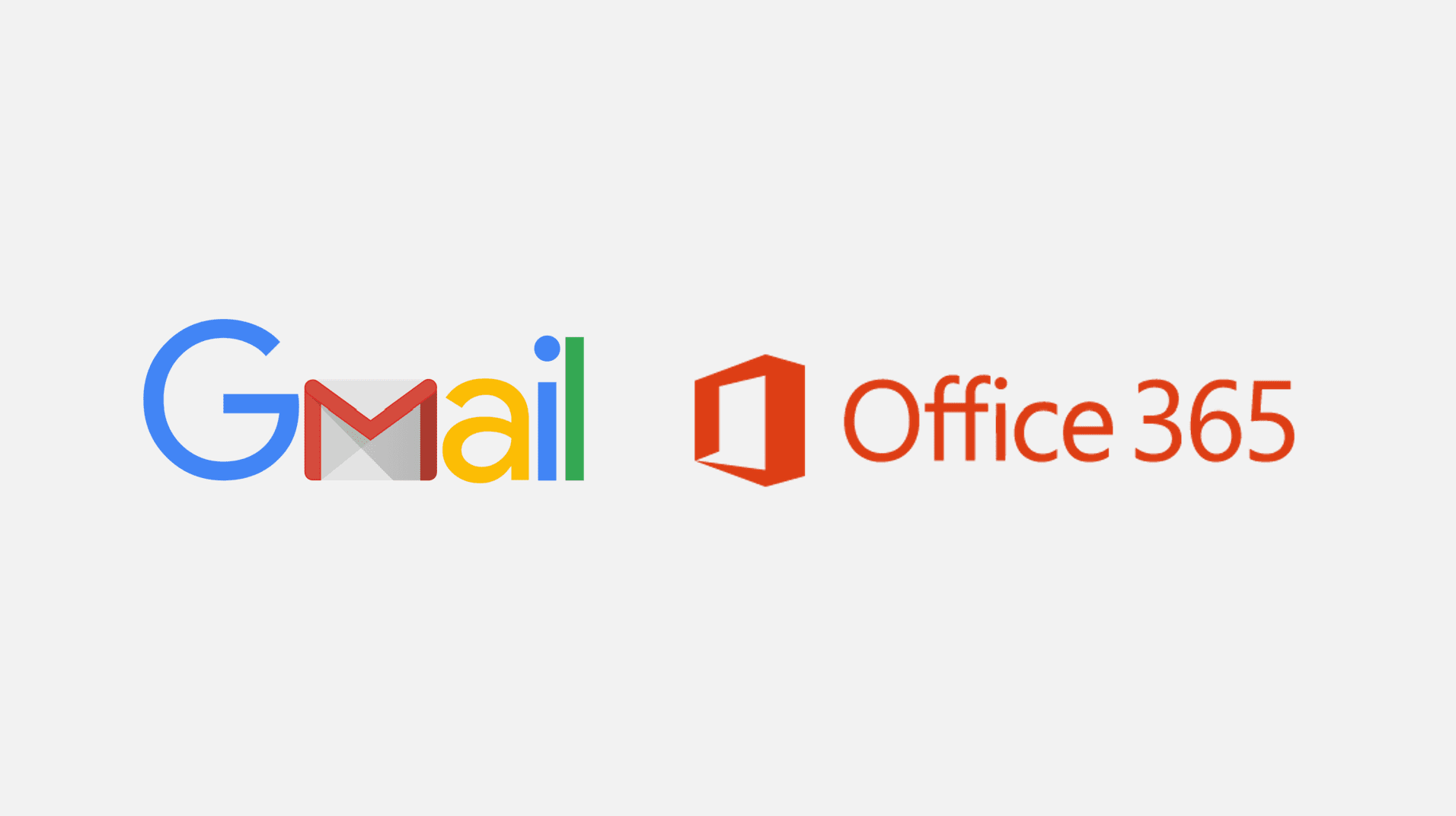 Most people that come to us to migrate their email to Office 365 are under the impression that it's a really easy process. You have no idea how many times I've heard, "you're just copying and pasting a bunch of .pst files". So I'm publishing my step-by-step guide for migrating Gmail to Office 365 to show everyone how to do it themselves.
This article is continuously being updated as steps change. Last updated: February 18, 2021.
Table of Contents

Preparation
What email service are you currently using?
Who is your DNS provider, who is the admin to the account, and what are the credentials?
How many inboxes are there?
What items do you want to migrate? Just the emails? Contacts? Calendar items?
Do you have any shared inboxes?
How many domains do you have?
How many email aliases are there?

Migrate Gmail to Office 365
Using the Internet Message Access Protocol (IMAP), we can migrate the mailboxes from Gmail (G Suite) to Office 365 as Gmail supports IMAP and this type of migration is called IMAP migration.
 Limitations of IMAP migration:
You can only migrate emails from the user mailbox. IMAP migration does not migrate Contacts, Calendar items or tasks from Source (Gmail) to Office 365, although emails and folder structures are migrated as is. Users or admins have to manually export the contacts and calendars from Source and then Import it to Office 365.
You can only migrate up to a maximum of 500,000 items from a user mailbox from source to Office 365. The emails are always migrated from newest to oldest.
The largest email that you can migrate is 35 MB.
Before you start, make sure that you:
Have access to the DNS

Have the first name, last name, username, and password for all users in an excel spreadsheet

Know which one of the users is an admin on Gmail

Can access the Office 365 tenant admin credentials

Make sure that Google MFA has been turned off for all users
Let's start! The entire process should take about 60-90 minutes
Step 1 -Validate that Google MFA and "allow access to less secure apps" are turned off
For every user, connect to their Gmail account via

https://www.google.com/gmail/

Once connected, click on Account (top right corner) and click Google Account
Click on Security

Make sure that "

Use your phone to sign in"

and "

2-Step Verification

"

are both turn

off

Make sure that

Less secure app access is turned Off
  Step 2 - Add users in Office 365
Add users in Office 365  and create user mailboxes for the users by applying Exchange Online licenses from either a standalone plan or through a subscription that contains Exchange Online plan.

You will need to connect from G Suite mailboxes to these newly created user mailboxes in Office 365 and the data will be transferred to the respective mailboxes in Office 365
Step 3 - Create a list of Gmail (S Suite) mailboxes to migrate to Office 365
Create a CSV file in Excel to list all the users to migrate to Office 365.
If the users in Gmail (G Suite) have 2-step verification enabled on their accounts, then you need to know the app password of each Gmail mailbox that you want to migrate. If 2-step verification is turned-off on Gmail accounts, then you need normal user account passwords for the users in Gmail.
It is not mandatory to migrate all Gmail mailboxes at once. You can migrate them in batches at your convenience. You can include up to 50,000 mailboxes (one row for each user) in your migration file. The file can be as large as 10 MB.
Use the following screenshot as a template to create the migration file in Excel. Start with the headings in row 1. Make sure they match the picture exactly and don't contain spaces. The exact heading names are:

EmailAddress

in cell A1.

UserName

in cell B1.

Password

in cell C1.

Next enter the email address, username, and app password (user account password) for each mailbox you want to migrate. Enter one mailbox per row.

Column A

is the email address of the Office 365 mailbox. This is what's shown in the

username

column in

Users

>

Active users

in the Office 365 admin center.

Column B

is the sign-in name for the user's Gmail mailbox—for example, alberta@contoso.com

.

Column C

is the app password for the user's Gmail mailbox. Creating the app password is described in Migration from G Suite mailboxes using the Office 365 admin center

.

Save the file as a CSV file type, and then close Excel.

Step 4 - Connect Office 365 to Gmail (G Suite) by creating Migration Endpoint in Exchange Admin Center
Login to Exchange Admin Center https://outlook.office365.com/ecp with Global Administrator account
Go to Recipients > Migration > More… > Migration Endpoints.
Click New +

to create a new migration endpoint.

On the Select the migration endpoint type page, choose IMAP

, and click

Next.

On the IMAP migration configuration page, set IMAP server to imap.gmail.com and keep the default settings the same. (Authentication – Basic, Encryption – SSL, Port – 993).
Click

Next

. The migration service uses the settings to test the connection to Gmail system. If the connection works, the Enter general information page opens.

On the Enter general information page, type a

Migration endpoint name

, for example, Test5-endpoint. Leave the other two boxes blank to use the default values.

Click

New

to create the migration endpoint.

Click

Close

on the Migration Endpoint page.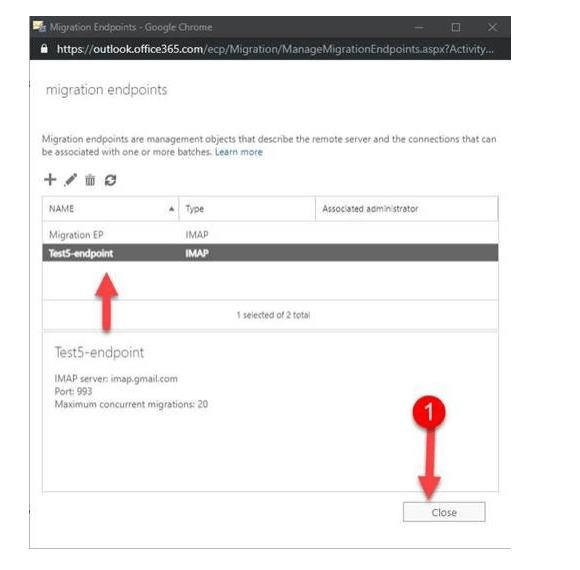 Step 5 - Create a migration batch in EAC and start migrating Gmail mailboxes
Use a migration batch to migrate groups of Gmail mailboxes to Office 365 at the same time. The batch consists of the Gmail mailboxes that you listed in the migration file in the previous Step 3: Connect Office 365 to Gmail.
It's a good idea to create a test migration batch with a small number of mailboxes to first test the process. Use migration files with the same number of rows, and run the batches at similar times during the day, then compare the total running time for each test batch. This helps you estimate how long it could take to migrate all your mailboxes, how large each migration batch should be, and how many simultaneous connections to the source email system you should use to balance migration speed and Internet bandwidth.
In the

Office 365 admin center

, navigate to

Admin center

>

Exchange

.

https://outlook.office365.com/ecp

In the

Exchange admin center

, go to

Recipients

>

Migration

.

Click

New

>

Migrate to Exchange Online

.

Choose

IMAP migration

>

Next

.

On the

Select the users

page, click

Choose File

to specify the migration CSV file you created. After you select your migration file, Office 365 checks it to m

ake sure:

It isn't empty.

It uses comma-separated formatting.

It doesn't contain more than 50,000 rows.

It includes the required attributes in the header row.

It contains rows with the same number of columns as the header row.

If any one of these checks fails, you'll get an error that describes the reason for the failure. If you get an error, you must fix the migration file and resubmit it to create a migration batch.

After Office 365 validates the migration file, it displays the number of users listed in the file as the number of Gmail mailboxes to migrate.

Click

Next

.

On the

Set the migration endpoint

page, select the migration endpoint that you created for Gmail in the previous step, and click

Next

.

On the

IMAP migration configuration

page, accept the default values, and click

Next

.

On the

Move configuration

page, type the

name

(no spaces or special characters) of the migration batch

in the box—for example, Test5-migration. The default migration batch name that's displayed is the name of the migration file that you specified. The migration batch name is displayed in the list on the migration dashboard after you create the migration batch.

You can also enter the names of the folders you want to exclude from migration. For example, Shared, Junk Email, and Deleted. Click

Add +

to add them to the excluded list. You can also click

Edit

to change a folder name and

Delete

to delete the folder name. You can also define the

Bad item limit

and

Large item limit

.

Click

Next

On the

Start the batch

page, do the following:

Choose

Browse

to send a copy of the migration reports to other users. By default, migration reports are emailed to you. You can also access the migration reports from the properties page of the migration batch.

Choose

Automatically start the batch

>

new

. The migration starts immediately with the status

Syncing

.

If you have large user mailboxes and the status shows

Syncing

for a long time, you may be experiencing bandwidth limits set by Google. For more information, see

Bandwidth limits

and

Sync limits

. You can try to unlock the Gmail user or use alternative method to migrate the users. For more information, see

Use network upload to import your organization PST files to Office 365

and

Third-party tools for Office 365 migrations

.
Step 6 - Verify that the migration worked
In the

Exchange admin center

, go to

Recipients

>

Migration

. Verify that the batch is displayed in the migration dashboard. If the migration completed successfully, the status is

Synced

.

If this task fails, check the associated Mailbox status reports for specific errors, and double-check that your migration file has the correct Office 365 email address in the

EmailAddress

column.

Step 7 - Notify your users via SMS 
Click on 

Log in

 

Click in 

Contacts

 

Click 

Add a Contact

 (use the phone number given to you by your users)  and 

Save

. Once done, you will see something like below.  

(Note: You will have to decide if you will notify only your contact or all the users being migrated. If you need to notify every user, you will need to create a group)

 

Click on the 

'Blue arrow'

 under the 'Text' column to send a message 

In the Subject, type your company name

Within the message section, type something like "We want to let you know that your email migration started. We will notify all of you via SMS once you can start following your Post Migration Steps" 
Step 8 - DNS Access 
Validate that you can 

still

 connect to the DNS
Step 9 - Backup Client DNS settings
Log in into client DNS and back up existing DNS
Step 10 - Add vanity domain and update DNS on new Office 365 tenant 
Log to Office 365 with Admin credentials

Go to 

Admin

 -> 

Setup

 -> 

Domains

Click on 

Add Domain

 

Enter your domain

You will be prompted by the 

Verify Domain

 page. Select Add a TXT record instead

On a separate browser, open the DNS from the client and add the TXT record

Once done, wait one minute and then click on 

Verify

You will now be prompted by the 

Update DNS settings

 page. Select I'll add the DNS records myself

Update the DNS accordingly and remove any GoDaddy email server references

Once done, click the 

Refresh

 button until you get the message "

All DNS records are correct, no error found

"
Step 11 - Update Primary email addresses to new vanity domain 

On Office 365 Portal, click on Users -> Active users 

Select one user, and click Edit within the Username / Email section 

Create a new alias using the new vanity domain name and click Add 
Click Set as primary 

A big Warning yellow box will be displayed. Click Save 

Click Close 

Now ready Steps b -f for all the other users

If you get a warning Red box saying that you need to wait up to 4 hrs, do the following steps: 

Open Windows PowerShell as Administrator and run the following commands: 


Step 12 - Email Testing 
On Office 365 Portal, click on Users -> Active users 

Select one of the user and reset his password (uncheck

Make this user change their password when they first sign in

) 

Now, send a test email to this user 

In a separate window, open Office 365 portal, use the credential of this user, and confirm that your email was received. 

Delete the test email from their inbox as well as their deleted email folder
Consider this step completed only when both send  and  receive tests have been successful. 
Step 13 - Password Reset 
Now, reset the passwords for all users

and check make the users change their password when they first sign in 

All passwords should now have been reset 
Step 14 - Set SSPR on new domain 

Within Office 365, click on Admin -> Admin centers ->Azure Active Directory 
Click on Azure Active Directory
Click on Password Reset
Under Self-service password reset enabled, select All
Click Save 

Step 15 - Stop Email synchronization from Gmail by Deleting the Synced migration batches
Let the migration batch run for at least

72 hours

before you delete it. This makes the following two things more likely:

Your Gmail mailboxes and Office 365 mailboxes have synchronized at least

once in 24 hours

(they synchronize once a day).

The email systems of your customers and partners have recognized the changes to your MX records and are now properly sending email to your Office 365 mailboxes.

One you verified that all emails are being routed to Office 365 after switching the MX records, you can

Delete the Migration batch

. After you delete the migration batch, the synchronization between Gmail and Office 365 will stop.

When you delete the migration batch, the migration service cleans up any records related to the migration batch and removes it from the migration dashboard.

To Delete a migration batch, use the below steps:

Go to

Exchange admin center

>

Recipients

>

Migration

.

On the migration dashboard, select the batch, and then click

Delete

.

Post-Migration Steps from Gmail to Office 365
Step 1 - Reset your password
To connect to your new email:
Go to

https://www.office.com
Click on Log in
Use your credentials

Username: <your email address> (i.e.: johndoe@contoso.com

)

Temporary password: NewPassw0rd! (<-just an example)
Follow the wizard to reset and create your own password.
Once done, you will be able to check your email on your smartphone (iOS or Android) using the Outlook app and/or via Office 365 Outlook Web (as shown below)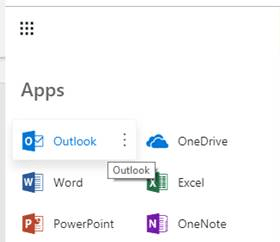 Step 2 - Install Office 365 on your PC or Mac
Click on Log in
Use your new credentials as created in "Step 1 - Reset your password."
Your screen should look similar to the following
Click the Install button to download and install Office 365 on your computer
Step 3 - Update Office 365 to the latest version
Open Microsoft Word
Click on Files
Click on Office Account
Click the button Update Options -> Update Now

Microsoft Office will install an update or you will get a message such as "You're up to date! The latest version of Office is installed on your computer"
Step 4 - Install Outlook to check your email
If you're on a Mac then follow these instructions, where you will find information on how to:

Add email accounts
Welcome to your inbox
Create and send email
Organize your inbox
Create an email signature
Welcome to your calendar
Schedule a meeting or appointment on a Mac

If you use a PC, then follow these instructions, where you will find information on how to:

Add an email account
Create and send email
Manage calendar and contacts
Collaborate
Set up your mobile apps
Learn more

There you go, that's everything you need to know about migrating your email from Gmail to Office 365. If you have any questions feel free to shoot us an email, give us a call, or use the chat box in the bottom right-hand corner.
Don't want to do it yourself? Schedule a meeting and we'll do it for you.
Suzanne Phillips
: Mar 03, 2023
If you currently use a Microsoft 365 Business Basic or Standard subscription, you're already on your way to streamlining your operations and...
Read More