Microsoft Managed Desktop
Microsoft Managed Desktop is a new subscription-based service offered by Microsoft to automate and streamline the most time consuming IT tasks so that IT can work on more important things. This is an IT-and-Security-as-a-service (ITSaaS)
cloud platform that includes Windows 10 Enterprise, Office 365, Enterprise Mobility and Security on select Windows PCs and Windows 10-enabled devices
(
only available on Microsoft Surface devices
,
Dell, HP and other manufacturers whose devices meet Microsoft's Managed Desktop specifications and runtime quality standards
)
. As the name suggests, Microsoft manages the systems.
Microsoft offers pre-configured hardware with software security and feature updates that the company manages for a monthly fee. The subscription-based combination of hardware and managed software means an organization can run their typical operations without IT ever having to touch the device - saving your team 55 percent of their time doing IT management tasks, so that they can focus on IT strategy and security instead.
Interview with VP, Technology of Indiana Pacers about Microsoft Managed Desktop
Brad Anderson, CVP at Microsoft sits down with Courtney Cole, VP of Technology at the Indiana Pacers (men's basketball team) on his experience of using Microsoft Managed Desktop for their 300 employees.
Having Microsoft manage all of your devices (inlcuding 24x7 support by Microsoft) not only means that your IT doesn't have to do any sort of maintenance, but it also means the devices load quicker, last longer, and have fewer issues. The Microsoft security team responds to your security threats, handling high and medium alerts within 10 minutes instead of the typical company taking 30 days before even noticing they have an issue.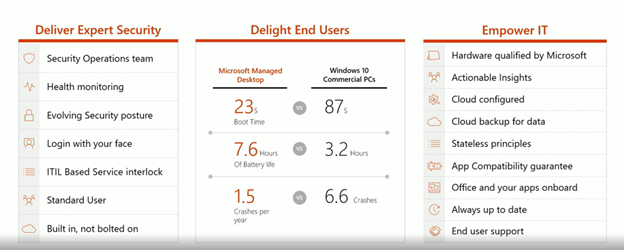 Microsoft Managed Desktop Presentation at Ignite 2019
Bill Karagounis, the General Manager of the Microsoft Managed Desktop team dives into the details of Microsoft Managed Desktop. In this presentation he talks about the service and introduces a customer on stage.
Microsoft Managed Desktop Cost Estimator
Build out an estimate below for a Microsoft Managed Desktop plan that meets your business' technology and budget needs.
Additional readings...
Here are two eBooks on the topic of Microsoft Managed Desktop for additional details on the service.
Microsoft Managed Desktop eBook
But how can you give users a great experience anytime, anywhere, without compromising the security of your environment? You must protect your business—and your customers— from increasingly sophisticated threats that can damage your reputation and your bottom line. Microsoft and our partners are ready to support you with all the technologies and services you need to fulfill your full vision.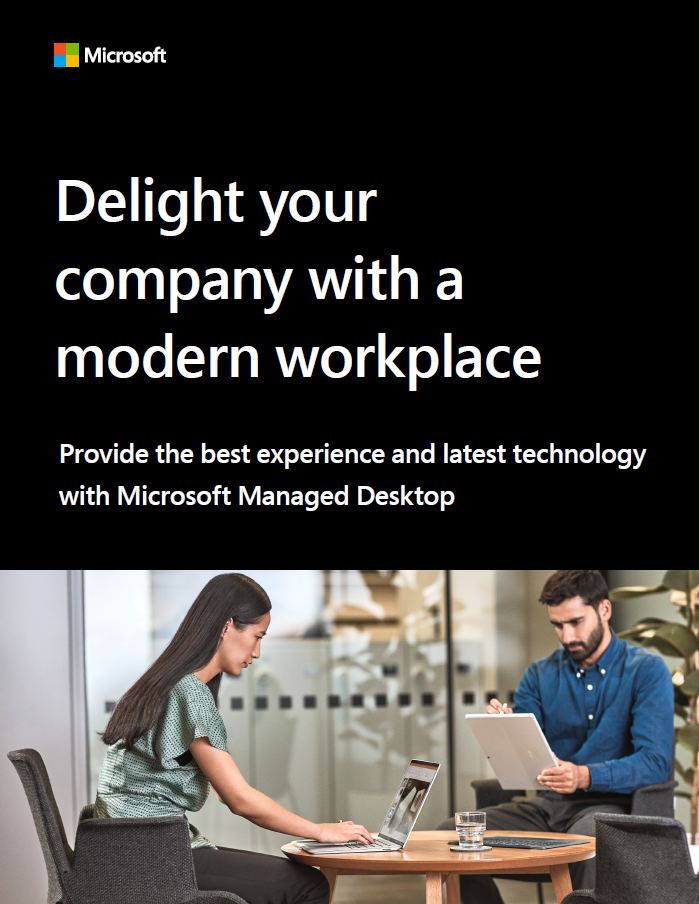 Forrester Study - Managed Desktop Services
In April 2019, Microsoft commissioned Forrester Consulting to evaluate the challenges companies face with their current technology infrastructure and how managed desktop services can fill critical IT needs. Forrester conducted an online survey with 303 technology decision makers responsible for desktop management at companies in Australia, Canada, the US, and the UK with 500+ devices in their organization to explore this topic.