10 min read
Microsoft Business Voice, Part II: Office 365 Phone Setup Prep
Joel Lachance on Nov 25, 2020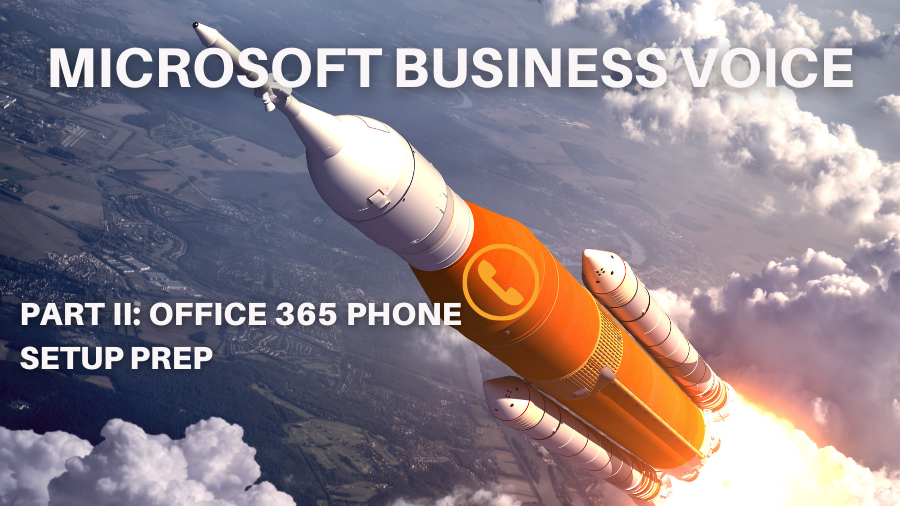 Right now, more than ever, connectivity is key. Every day we email, chat and text to ensure our businesses are running smoothly as we transition from the office to home (back to the office, back home...). Yet, when you can't quite figure something out through email, chat and text what do you do? You get on a call. Phone carriers, however, can be difficult to deal with. So, Microsoft simplified voice-over-IP (VoIP) telephony by bundling several features and licenses into Microsoft 365 Business Voice, making it easier and more economical to deploy a cloud voice solution than ever before. In this blog, I will walk you through switching to Business Voice and setting up your new phone system.
If you're curious about cloud-based phone systems, my previous blog, Microsoft Business Voice, Part I: What Is It and Do I Really Need It? explains what Business Voice is and walks you through how it enables organizations of all sizes to take advantage of a 100% cloud-based telephony solution, that is flexible, affordable and compliant. If you don't have Business Voice but do have the following trifecta, you can also set up your cloud calling system:
A Microsoft 365 Phone System aka PBX license
A Domestic Calling Plan, or a Domestic and International Calling Plan
A dial-in Audio Conferencing, also known as Microsoft 365 Audio Conferencing.
These licenses can be purchased individually or if you are on an Microsoft 365 A5 or Microsoft 365 E5 plan, you already have the Phone System and the audio conferencing licenses. Check out the *new* BEMO online store to make your purchases.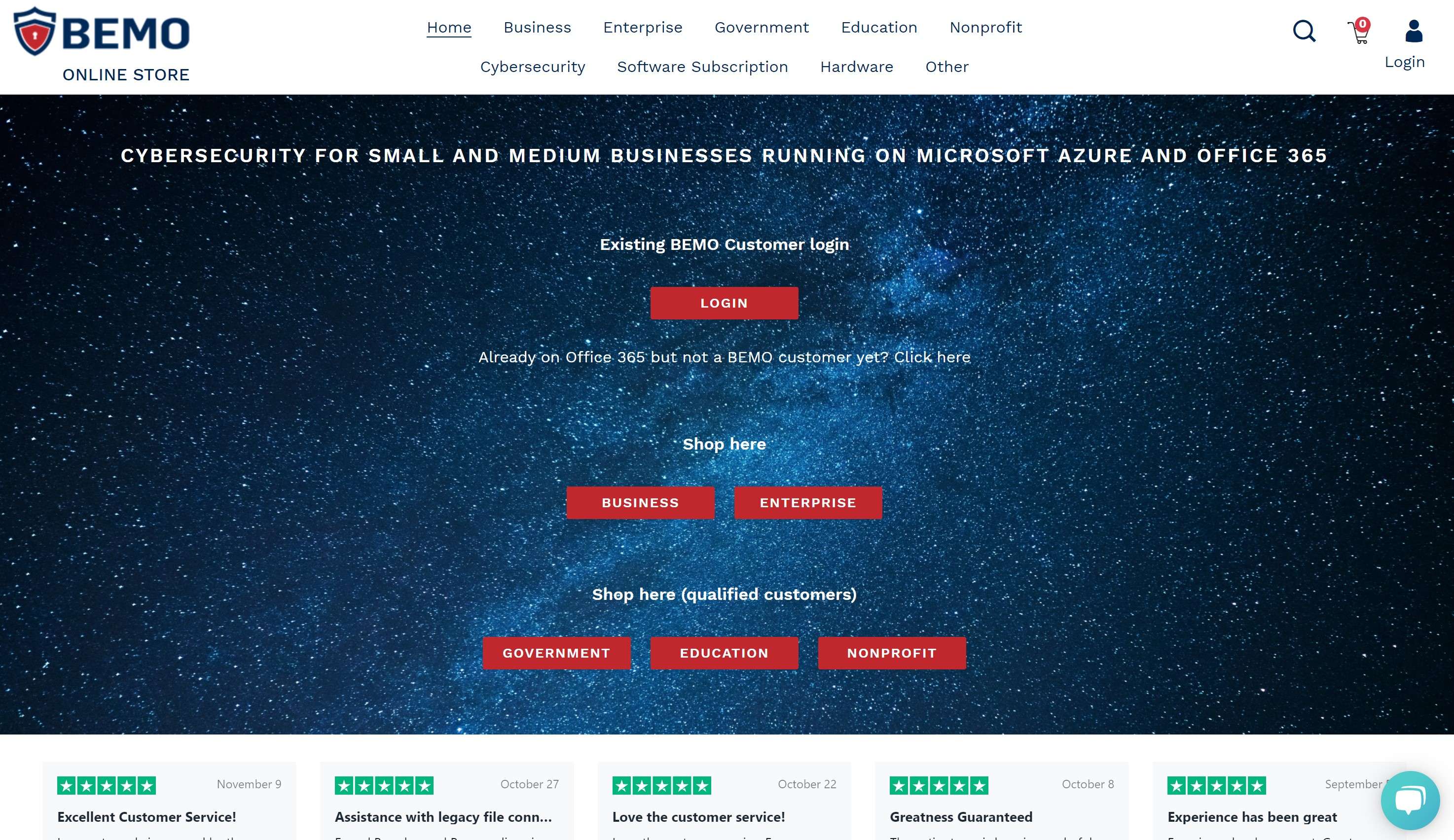 ---
Table of Contents
In the following sections, I will explain in greater detail how to enable your organization to be able to quickly set up Teams with telephony and go over the top questions we get when it comes to deploying a phone system.
---
How to Enable Your Organization to Quickly Set Up Teams with Telephony
Before you begin, make sure you have a Global Administrator role, so you will be able to complete the necessary tasks through the Teams Admin console.
The following are the high-level steps required to deploy a phone system. While every deployment is unique, this blog post should provide you with an overview of a successful process. Let us get started.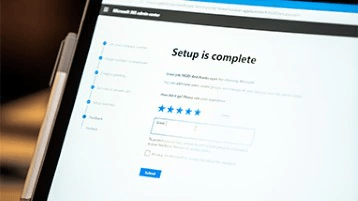 If you do not have one already, purchase a Microsoft 365 plan qualified for Business Voice to which you can add a calling plan. You will need a plan for each user (ex. Microsoft 365 Business Premium).
You can visit one of these pages, depending on your organization type:
Once you have a qualified Microsoft 365 plan, you will need to purchase the Business Voice add-on (for Microsoft 365 A5 or Microsoft 365 E5, you will purchase a calling plan) for each user requiring a phone line.
Next, think about how you would like to have your call routing work. This diagram might inspire you if you do not already have a workflow in place with your legacy company phone system.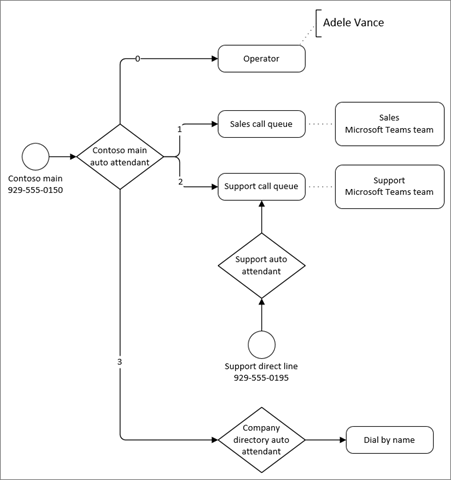 For each auto-attendant and call queue, you will need a Microsoft 365 Phone System - Virtual Users. Grab at least 5 or 10 of those, they are free! Get them here on our site.
Assign the Business Voice or calling plan licenses to all the targeted

users



Obtain phone numbers (DID) from Microsoft. You will be able to assign those either as temporary or permanent phone numbers.
Create E911 location records for your organization. You will need at least one for your main location and you can add more to list all your office locations and remote worker location to be compliant.
Assign a phone number and E911 location to your end-users
Create resources in your Office 365 tenant and assign each of them a Virtual User license
I recommend creating Office 365 groups to process call queues, group voicemail and membership for dial-in scope.
Create call queues as you wish for your different departments or functional groups (ex. Sales, Accounting, Engineering, Support, etc.)
Create auto attendants to process incoming calls along with business hours, after-hours, holiday rules, greetings, and call routing options.
If you wish to keep the phone number from your previous carrier, you can do so by submitting a porting order to have your numbers transferred to your Office 365 tenant.
Test your system to validate the call routing rules you created.
TIP: temporarily alter your business hours on the fly to test normal and after-business hours workflows
Identify a small group of users for a pilot and get them up to

speed



Roll out to your entire organization
This diagram illustrates how you can route calls and license your auto-attendant and call queues.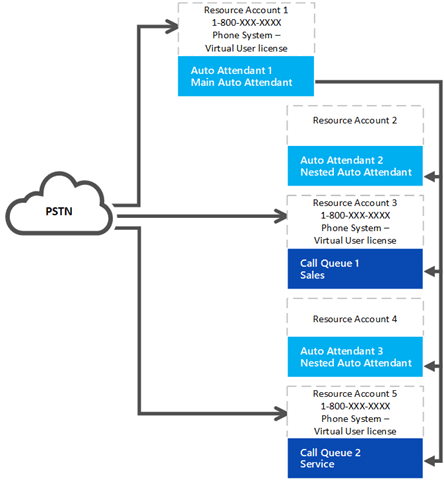 ---
How Long Will it Take to Set Up Business Voice or Teams Calling?
First-timers will typically complete steps 1 to 6 within 1 or 2 hours.
For the rest, assume 1 to 2 hours per auto attendant or call queue and 4 hours per porting order.
Curious if you should do this by yourself? Hear what our customers have to say:
---
Is it Complicated to Port My Existing Phone Numbers to Teams with Microsoft Business Voice?
The short answer is NO, if you have the needed information at hand (see below for a list of all the information you will need). For some customers, it might prove tedious to obtain all of the necessary documentation. As always, we are happy to help you with that if you wish.
4 hours for processing a porting order may sound excessive at first, but they can be unassumingly tricky. I have done a lot of these and there is often a lot of back and forth with the losing carriers. I've even helped customers whose phone company was bought by another phone company, which further complicated the matter.
By the way, to make things clear, you will need separate porting orders: One for service toll numbers (mainline numbers), one for user numbers, and one for toll-free numbers if you have any. Also, if your company happens to have phone service with multiple carriers, then you will need to do the same for each carrier.
Once the proper documentation along with a Letter of Authorization signed by whoever is the primary account holder of your current phone service provider, (AKA the 'losing carrier'), a porting order request can be submitted to the Microsoft PTN team. For your letter of authorization, you can still use the good old Skype for Business / Microsoft Teams or give a shot at generating a printout from the porting wizard in Teams (see below).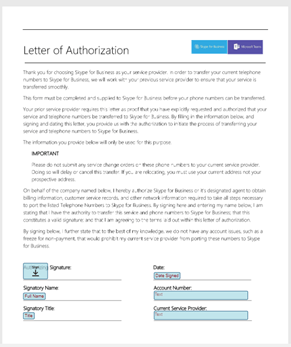 Earlier this year Microsoft released a wizard part of Teams that help eliminate some of the guesswork when preparing a port order. That wizard (see that "Port" button) is still what I would call a version 1.0 but is much better than the old way (which consisted of sending an email to the Microsoft PTN Team).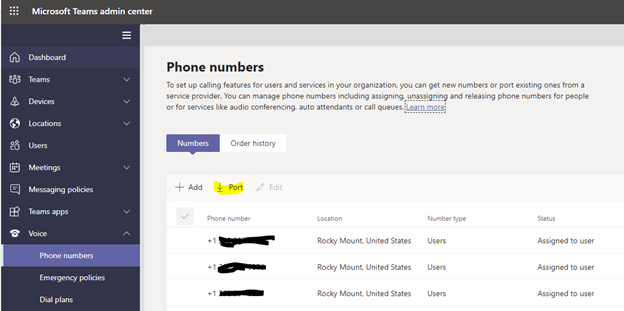 TIP: Making sure all of your information is correct ahead of time is crucial. If you present incorrect information, your losing carrier can use that as an excuse to delay your porting. The best strategy is to pull out your old phone bill and contract, look up your account online and contact your current service provider. Here is the information you will need:
Billing Telephone Number (BTN): This is typically the main phone number associated with your account
Customer Company Name: Your company may have changed its name over time. Make sure the information provided matches the phone company records.
Service Address: Is the address where the phone service is delivered, it is not necessarily the billing address. Best to look up your account online or contact your current phone service provider
Personal Identification Number (PIN): If your losing carrier issued a PIN for your phone service, then Microsoft PTN will need it to authenticate your porting request
Account Number associated with your current phone service
Current Service Provider Name: Most of the time, it is the name of the company you are getting your phone service from. However, in some cases, it is possible that your organization of the service provider might have purchased these phone numbers (DID) from somewhere else. If you are not sure, contact us and we will help you sort that out.
Company Internet Domain Name: this is your vanity domain associated with your Office 365 tenant. Likely [MyCompanyName].com, on the *.onmicrosoft.com. This is so that they know where to port your number
The explicit list of all the phone numbers you want to port
The type of phone number: user, service or toll-free
Indicate if that is a full or partial porting. Are you porting all your numbers of just a few of them?
Once you have all this information, there are fewer reasons your porting order should be rejected once it has been submitted by Microsoft PTN to the losing carrier.
Porting orders are tedious and clerical in nature, but no worries, by law the losing carrier has a maximum of 30 days to process a valid porting order.
Here are a few more tips:
To help the Microsoft PTN team cope with the high volume of porting requests, combine your user and phone number porting request from the same losing carrier into 1 user number porting request and have the actual service numbers flagged as service number on the porting day.
Keep paying your bill with the losing carrier
Do not add or remove phone lines or services with the losing carrier while the porting is in progress. This will confuse the process.
Do not cancel or schedule cancelation of your your service with your current carrier until all your porting order have been completed.
While most porting order get processed within 45 days, there are exceptions, so give yourself some slack and plan that you might have to hold on to your former service provider for 90 days.
At this point, you might be thinking "Yikes! Porting sounds daunting" and yes, it certainly can be. If you'd like our help in avoiding the common pitfalls of porting, schedule a consult below:
---
Can I Use Teams with Voice While My Porting Order(s) is Being Processed?
Absolutely, yes! As soon as you have completed steps 1 to 12 above, every user has at least a temporary phone number, dial-in audio conferencing is enabled, and you have auto attendants and call queues to handle incoming calls placed to your main company number(s).
Here is another trick, while you might not want to publish your temporary numbers, you could program a call forward from each of your "permanent" numbers (user, service, or toll-free), to the respective temporary numbers. That way, all your incoming calls will be routed into Teams. With that, you can immediately depreciate the use of your old phone system and enable your people to work anywhere. Isn't that sweet?!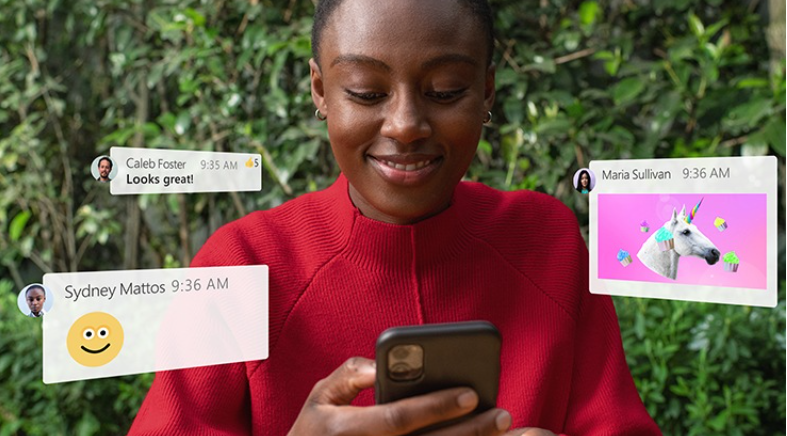 ---
Should I Setup My Phone System by Myself?
The short answer: it's up to you. Rarely have we had customers set up their phone system. If, however, you have your own IT staff who are familiar with phone systems, it will certainly be much easier. Please feel free to point them to this blog for help.
Most business operations depend heavily on being able to receive, process, and make calls. Obviously, missing important calls because of a phone system setup gone wrong is less than ideal. Thankfully, it is fairly easy to assign phone numbers to your end-users. However, make sure you have done all other steps you can upfront to minimize downtime.
We recognize that your phone system is a mission-critical customer-facing interface that enables your employees to perform their work. Downtime = disruption to your business. Having professional help can be a lifesaver. At the end of the day, you want to look good to your management and keep your boss happy. But, you also want to stay familiar with your systems. At BEMO, we will use our expertise to prevent downtime, and make the process as expedient as possible. We will also train you in administering your phone system, adding users, changing call routing, groups, call queues, etc. so you can be autonomous from there on out (though we are always here to help, of course).
Want to hear what our customers think? Click on David's image below:
---
How Much Will BEMO Charge Me to Set Up My Phone System (Including Porting?)
Like we said, each company is unique. Your cost will depend on how many users, auto attendants, call queues and porting orders you will need. We will take the time to review your system and plan ahead for a successful roll-out. So, a number? Our one-time fee for migration services for a phone system is as low as $1000. Contact us and we will get you a personalized plan and quote.
---
How Much Training Will My Users Need?
If your users are already using Microsoft Teams, they will be up and running in a matter of minutes, setting up their voicemail and placing calls right away! For Teams tricks check out our 9 Tips for Meeting with Microsoft Teams blog. If users are unfamiliar with teams, this introduction to Teams is great:
Learn how to make calls in the video below:
---
Do I Need to Buy Desktop Phones or Special Hardware for My End-Users?
Depending on the size of your organization and if you use receptionists to process your incoming calls, you may want to provide a desktop phone, or a console and a headset.
If most of your incoming calls are handled via your programmed auto attendants and call queues, then there isn't much of a need for a fancy phone console at the front desk.
Your other end-users will need some sort of device to be able to receive, process and place calls. Luckily, with Teams, they can use any of the following alone or in a combination:
The Teams desktop or web app on a Mac or PC with a headset connected to their machine
An Android or iOS mobile device with the Microsoft Teams app installed
A desktop phone certified for Teams, like a Yealink or Audiocodes
A conference room with equipment set up for Teams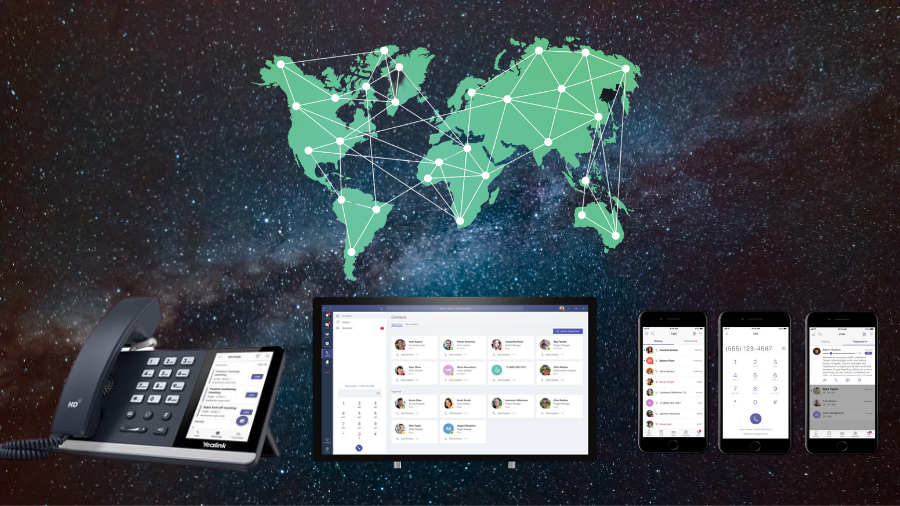 Users can also have Teams configured to forward calls to a landline or their mobile phone.
Desktop phones like a Yealink T55 and T56 (retail at $300 -$400) work well whenever you need to set up a phone for communal use in a lobby, cafeteria, factory floor, warehouse, etc.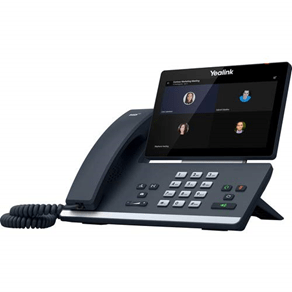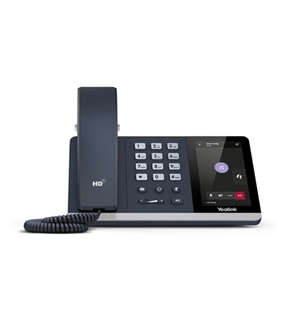 (Yealink T55A and T56A Teams editions available at the BEMO Store)
When it comes to a conference room, it all depends. For a small gathering, a Jabra Bluetooth speakerphone will work great and can be transported in your computer bag. Those retail for less than $200.
For larger rooms, you may want to look at dedicated speakerphones with a detached microphone or you can opt for a full Meeting Room system. Dedicated meeting room equipment starts at around $1000 and you can get a Meeting Room experience starting at around $3,000.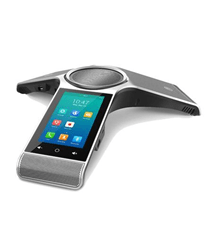 (Yealink CP960-Teams available at the BEMO Online Store)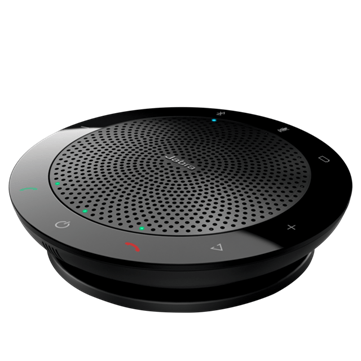 (Jabra Speak 510)


---
The Main Takeaways
Business Voice is a cost-effective solution for telephony, enabling people to work from anywhere while still staying connected.
Business Voice can be added to most Office 365 plans tailored for business, enterprise, education, and nonprofits organizations.
Minimum training is needed, especially if you are already using Teams
You will get your basic service set up in a matter of 1 or 2 hours along with phone numbers for all your users.
You can start using your service right away while your phone number porting orders are processed.
You can configure the auto-attendant, call queues, group mailbox on your own or use our migration service to expedite your rollout.
You can purchase all your Microsoft 365 licenses with BEMO, without any contracts. Every option is month-to-month.
That's it! If you have questions or comments, please leave them below or click on the chat in the bottom right-hand corner of your screen to put Mocha the Office Pug to work 😉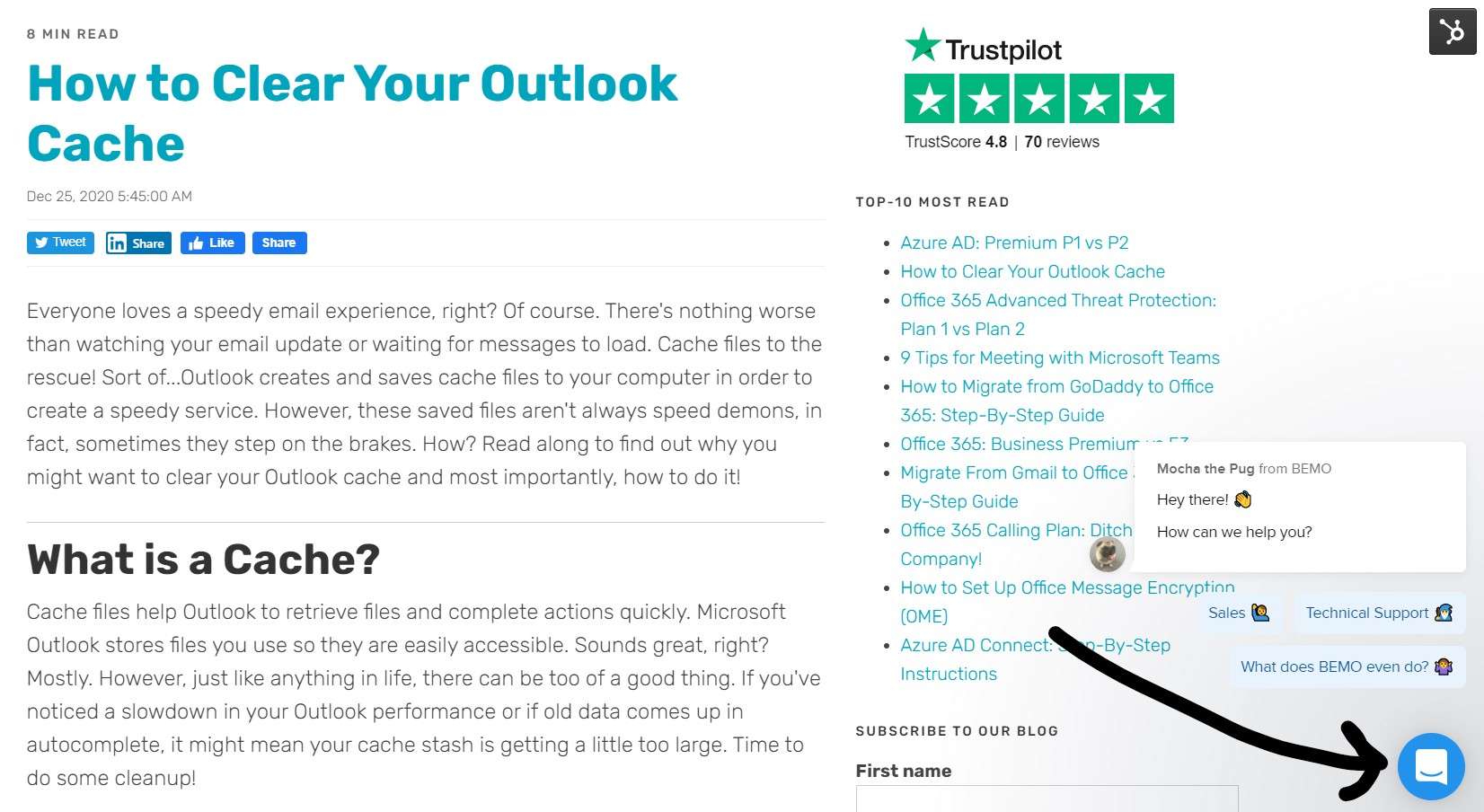 Again, we are always here to help if you prefer we set up your calling for you. We can have you up and running within hours. Schedule a meeting below to go over your options.
Ready to start? Read Part III here: Business Voice & Microsoft Teams Calling, Part III: Setting Up Your Plan
Suzanne Phillips
: Mar 03, 2023
If you currently use a Microsoft 365 Business Basic or Standard subscription, you're already on your way to streamlining your operations and...
Read More